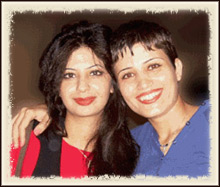 A court hearing for Maryam Rustampoor and Marzieh Amirizadeh -- Iranian Christians who were arrested by security forces in March 2009 -- was held on April 13. In November 2009, the two were conditionally released from the notorious Evin Prison (click here for more information). Although they have been receiving medical treatment for the past five months, they remain weak and suffer from various illnesses. Yet, despite their frailties, they were determined to be faithful to the Lord and speak the truth in court whatever the consequence or personal cost. At last report, the outcome of their hearing was unknown. (Source: Elam Ministries)
Pray that the peace of God will protect Maryam and Marzieh's hearts and minds and keep them safe. Pray that they will completely recover from their illnesses and be strong -- physically, mentally and spiritually. Pray that all charges will be dropped and they will be set free.
For more information on how Christians suffer in Iran, go to the Iran Country Report.