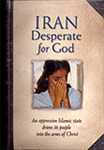 Read more testimonies of Iran's Christians
Click here to order
Muslims are reportedly coming to faith in Christ in record numbers in Iran. In recent months, The Voice of the Martyrs has received several reports of opposition facing Iranian Christians, including the arrest of 15 newly converted Christians in the city of Mashhad Razavi Khorasan in July. Despite increased persecution, however, contacts have confirmed that believers in Iran are continuing to share Christ courageously with Muslims, with many converting from Islam to Christianity as a result.
Praise the Lord for the many lives that have been touched by His grace in Iran! Pray that new converts will grow in their faith. Pray that God will give endurance, encouragement and a spirit of unity to all those following Christ in Iran (Romans 15:5).
For more on Iranian Christians suffering for their faith, visit the Iran Country Report.