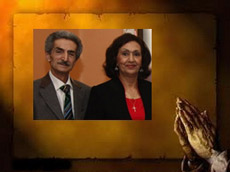 Hassan Razavi Derakhshan and his wife, Parya
Photo from Mohabat News
On December 27, several Iranian agents of the revolutionary court came to the house of Hassan Razavi Derakhshan, 65, and his wife, Parya, 61. Only Parya was home at the time, so the officers demanded she phone her husband and that he return home immediately. Razavi obliged, and the agents took the couple into detention.
After many attempts to gain information on the couple's whereabouts, colleagues and relatives learned they had been arrested and taken to the Vakil-Abad detention centre. The couple's house is reportedly missing several personal items, including Bibles, Christian literature, CDs and pictures of Jesus. It is suspected that they were targeted for hosting prayer and worship meetings in their home, including a Christmas celebration on December 22. There is special concern for the health of Parya, who recently underwent major back surgery.
The couple's arrest is the latest in a series of recent crackdowns on Christian converts from Islam and believers involved in evangelism in Iran. Since December 26, Iranian security agents in plainclothes have searched the homes of many Christians and arrested more than 100 believers in a crackdown in the capital city of Tehran and a few other areas.
Please pray for safety and health for Razavi and Parya. Pray that increased persecution will result in increased boldness in the witness of Iranian Christians (Acts 4:29-31). Pray that the persecutors will know Christ's love, forgiveness and blessing through the lives of the Christians (Romans 12:12-21).
Find out more about Iranian Christians serving God at great cost at the Iran Country Report.