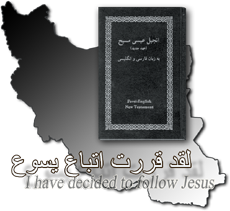 The Iranian government is expressing great concern over the large volume of Bibles entering the country. Authorities reportedly seized 6,500 Bibles in transit between the cities of Zanjan and Abhar in northwest Iran. An Iranian official recently stated that "missionaries with reliance on huge money and propaganda are trying to deviate our youth." He also expressed his concern that "religions are strengthening their power to confront Islam." Prior to this, in November of 2010, police officers and revolutionary guards seized 300 Bibles and burned them.
Pray that the Word of the Lord will continue to go forth in Iran and that many will come to embrace Christ as their Saviour. Pray that Iranian believers will never be ashamed of the gospel because, through its power, God brings salvation (Romans 1:16). Pray for strength and insight for all those involved in ministry in Iran.
To learn more about Iranian believers serving Christ at great risk, go to the Iran Country Report.