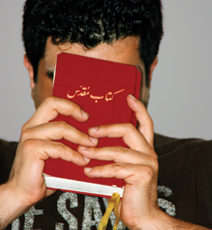 Iranian believers are facing
imprisonment for their witness.
Five Iranian Christians and ministers who were convicted of crimes against the Islamic Order on March 8, 2011 in Shiraz, Iran, have been told to report to prison immediately to serve a one-year prison sentence. According to Jason DeMars of Present Truth Ministries their names are: Behrouz Sadegh-Khandjani, Mehdi "Petros" Furutan, Mohammed "William" Belyad, Nazly Belyad, and Parviz Khalaj.
According to DeMars, Nazly is approximately seven months pregnant. "This absolutely breaks our heart. Please pray for these brothers, our sister, and the little baby that is growing inside of her. We ask that you pray for miracles to take place so that she does not have to be in prison," he said.
Please pray the authorities will have mercy on this group of Christians, especially Nazly. Pray they will not despair but instead they will keep their eyes on Jesus, persevere in their faith, and not grow weary or lose heart (Hebrews 10:32-39; 12:1-3).
For more on Iran, visit the Iran Country Report.