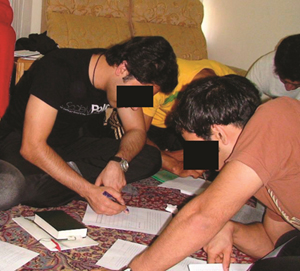 Believers study God's Word in apartments.
There are calls for both praise and petition in Iran as some formerly imprisoned believers have been released while others remain jailed for their faith. Davoud Alijani was arrested in Ahvaz last December and was released on March 8. Sharifeh Dookh, Masoud Golrooyan and Nima Shokouhi arrested in Shiraz last February were released after 36 days in custody. And Giti Hakimpour, a 78-year old detained for three days in February, received all the property back that was confiscated when she was arrested including her passport, pension book, computer, mobile phone and Bibles and other religious materials (for more on her arrest, click here).
However, at least 27 believers remain detained across Iran because of their Christian faith. Following a series of raids in February and early March, five believers remain detained in Shiraz, three in Kermanshah and at least seven in Isfahan. Among those detained for more than one year are Youcef Nadarkhani, Noorallah Qabitizade and Farshid Fathi. Several believers who have been released on bail await court hearings. Alireza Akhavan, a Christian who was released on bail in 2010 but was convicted in November 2011 of "actions against national security," was re-arrested on March 14 while attempting to flee from Iran.
Please pray that each of those detained or facing court hearings will know the presence and peace of Jesus. Please pray that believers across Iran will know the Lord's wisdom and protection while meeting together, and so will be enabled to live without fear.
To learn more about Iran's persecuted Church, go to the Iran Country Report.