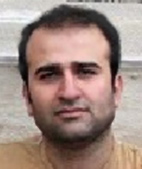 Mehdi "Petros" Foroutan
Mehdi "Petros" Foroutan spent approximately a year in prison in Iran for sharing his faith with Muslims. Thankfully, he was released on June 10 (for more, click here). Since his release, VOM has been helping Petros resettle.
Petros recently shared with VOM that he is very thankful for all who were praying for him while he was imprisoned.
We thank you for praying so faithfully for believers like Petros, and encourage you to remember those in bonds as if bound with them (Hebrews 13:3). Pray that Petros will continue to share his faith with others, despite risk of punishment. Pray that God will use both Petros' time in prison and his new freedom to advance His kingdom in Iran.
For more information on persecution in Iran, go to the Iran Country Report.