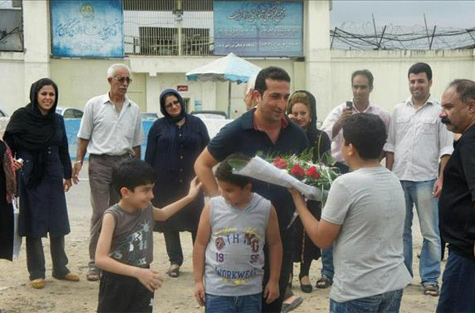 Praise God for Youcef's release!
Photo: ACLJ

Youcef Nadarkhani, an Iranian pastor who was found guilty of apostasy and sentenced to death in 2010, has been released from prison (for more on these charges, click here).
At a court hearing on September 8, Pastor Youcef's previous conviction for apostasy was withdrawn. He was convicted instead on charges related to evangelistic activities and was sentenced to three years' imprisonment. However, the time he has already spent in prison (two years and 11 months) counted toward the new sentence. The court accepted a bail payment in order to release him one month early.
Pastor Youcef has been reunited with his wife and two children.
Praise God for the release of Pastor Youcef! Pray that God will continue to protect Youcef and his family from those who wish to cause them harm. Pray that Youcef's testimony will draw many others into a deeper relationship with Jesus Christ. Pray that the Church in Iran will continue to grow despite opposition from authorities.
For more on Iran's persecuted Church, go to the Iran Country Report.