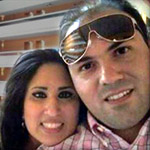 Saeed and Nagmeh Abedini
Photo: ACLJ



On March 15th, Naghmeh Abedini, the wife of American-Iranian Pastor Saeed Abedini, tearfully presented the case of her imprisoned husband's torture to a US congressional committee on human rights. "Saeed is a husband and an amazing father," she explained during the hearing. "Our kids hold onto the hope of seeing their Daddy very soon." Representing the American Center for Law and Justice, Chief Counsel Jordan Sekulow concluded: "This hearing represents a significant opportunity to elevate Pastor Saeed's plight...and stand up for the human rights and religious freedom of those who are facing similar situations because of their faith."
View a brief video clip of Naghmeh and Jordan Sekulow during a recent television interview. For more about Pastor Saeed's arrest and imprisonment, click here.