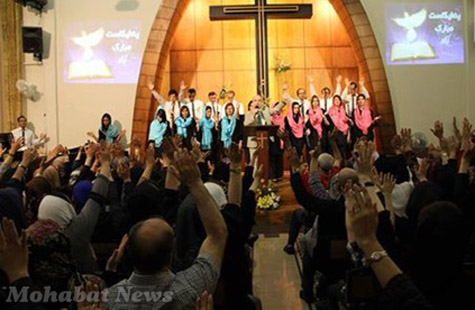 Pray for the members of the AoG church in Tehran.
Photo: Mohabat News

The Central Assemblies of God Church in Tehran was closed last Thursday, May 23rd, due to pressure from Iranian security authorities. The authorities wanted to limit the church service to just the Armenian language, thus preventing any Farsi services from taking place. In another incident on May 21st, security authorities arrested Pastor Robert Asseriyan, one of the leaders of this church, in the middle of a worship service and transferred him to an unknown location.
Iran's Islamic regime has been implementing its anti-Christian agenda for a long time. This includes pressuring church leaders to prevent Farsi speakers from entering their churches, arresting members of the congregation and their pastors, and also closing down churches. Since the raiding of the country's house churches, many new Christian converts have been arrested and terrorized. For an historical overview, see the Iran Country Report.
May Pastor Robert Asseriyan experience the Lord's strengthening presence, protection and peace as he awaits his hopeful release from imprisonment. In fact, let's lift up in prayer all believers who are suffering persecution in Iran for their Christian faith. Ask the Lord to give the church leaders wisdom to know how to best encourage their congregations and deal with the authorities.