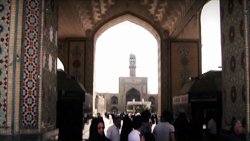 Christian Solidarity Worldwide (CSW) is reporting that eight members of the Church of Iran in Shiras, Fars Province have been sentenced to prison for "action against the national security" and "propaganda against the order of the system."
The sentences range between one and six years and follow a raid by government security services last year on a prayer meeting led by Mohammad Roghangir. On October 12, 2012, Roghangir along with six other Christians were arrested. An eighth Christian present at the meeting was arrested six days later.
On March 10, 2013, a judge set bail for Roghangir at US$200,000 and $80,000 for some of the other Christians with the intention of financially crippling the Christians' families and congregation.
According to Article18 of the U.N.'s International Covenant on Civil and Political Rights, of which Iran is a signatory, everyone has the right to freedom of religion and freedom to practice that religion in community.
CSW's Chief Executive Mervyn Thomas says these Christians are in no way a threat to the state and says the government's detaining of religious minorities on political charges is disappointing.
"We call for their unconditional release and urge the government to end the practice of characterising legitimate religious activities as national security crimes," says Thomas.
Muslims make up 98% of Iran's population. The country's legal system is based on Shariah law which gives the courts the right to impose death sentences and life imprisonments on apostates from Islam. Violent persecution of Christians has been intensifying since 2005 especially for Christians coming from a Muslim background.
Pray for Iran
Praise God for the rapidly increasing numbers of Muslims coming to Jesus.
Pray that God will grant strength and courage to Christians coming out of Islam facing rejection and persecution from their own families.
Ask the Holy Spirit to soften the hearts of the very persecutors of Christians in Iran's government, security forces, and citizens.