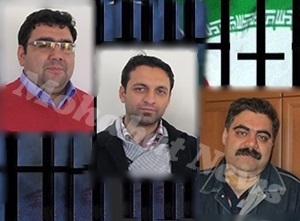 Information is emerging about the unlawful detention of three Iranian Christians, Farshid Modares-Aval, Mohammad-Reza Pirri, and Yashar Farzin-No.
According to Mohabat News, the men were arrested on July 20 during a raid by security forces in Tabriz. Since their arrest, they have remained at the Ministry of Intelligence detention centre in Tabriz prison. Police have also searched their homes and confiscated some of their possessions.
Officials have not explained why the men are detained. Troubled by the lack of information, the families of these prisoners have questioned judicial authorities about the conditions their loved ones are facing. Recipients of these inquiries have been largely unresponsive, but reports have confirmed that the prisoners have been subjected to beatings. The beatings inflicted on Mohammad-Reza Pirri were brutal enough to cause him to be hospitalized for four days.
Oftentimes when Iranians seek information about their detained family members, they are promised that their loved ones can be discharged early, on condition they are secretive about the incarceration. Sometimes if authorities fail to uphold this promise, families decide to speak publicly about the incident.
Iranian government officials liken house churches to Western-influenced political groups that intend to overthrow Iran's theocratic system. None of Iran's imprisoned Christians have been conclusively linked with anti-government conspirators.