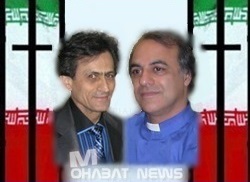 Farhad Sabokrouh and Naser Zamen-Dezfuli
Photo: Mohabat News

On December 4th, two Iranian believers -- Pastor Farhad Sabokrouh and Naser Zamen-Dezfuli -- were released from prison after being incarcerated for more than 200 days.
The men were apprehended on December 23rd, 2011, after authorities raided a Christmas celebration held at their registered church and arrested all in attendance, including children. Several hours later, most were released except for Pastor Farhad, his wife Shahnaz Jayzan, Naser Zamen-Dezfuli, and another church member by the name of Davoud Alijani.
The four were later released on bail. However, in October of 2012, they were each sentenced to one year in prison for "converting to Christianity, inviting Muslims to convert and acting against state security through evangelistic activities." These believers were summoned to court on May 1st, 2013, to begin serving their sentences. At last report, Davoud and Shahnaz remain in prison and it is unclear whether they will be released as well.
Praise God for this answer to prayer! Pray that as Pastor Farhad and Naser recover from their ordeal, the Lord will grant them ongoing grace and strength. May He also protect them from further opposition. Pray, too, that their testimonies will demonstrate to unbelievers the love and faithfulness of our God. Remember Davoud and Shahnaz in your prayers as well. Whether imprisoned or free, may they remain steadfast in their faith and rejoice in the gift of our Saviour, Jesus, who has promised to never leave them or forsake them (Hebrews 13:5).