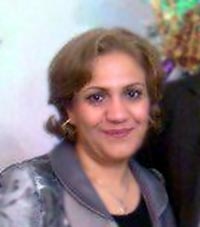 Shahnaz Jayzan
Shahnaz Jayzan, an Iranian Christian arrested in December of 2011, was released from prison on January 28th. Shahnaz was imprisoned along with Naser Zamen-Dezfuli, Davoud Alijani and her husband, Pastor Farhad Sabokrouh. The three men were earlier freed after spending over 200 days in jail. (For more on their release from prison, please visit this page.)
Shahnaz's release was conditional, and she is required to report to the Revolutionary Court of Ahwaz every four months. According to sources, Shahnaz and Pastor Farhad are not permitted to hold church services or visit Christians in Khuzestan province. Also, they were told they should leave Ahwaz, their hometown.
Thank God that Shahnaz has also been released from prison. Pray that she and her husband will continue to serve God faithfully, despite the limitations placed on them by authorities. Also remember in prayer the many other Iranian believers who remain imprisoned. Ask God to grant them endurance, and pray also that they will soon be released.
You can impact and encourage imprisoned Christians in Iran by writing letters, reminding them that they are not forgotten. For our complete list of prisoners' addresses, please visit our website.