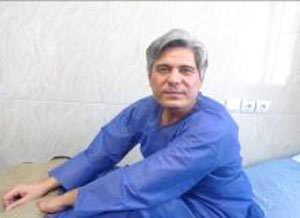 Behnam Irani
Photo: CSW


Behnam Irani, an imprisoned pastor who has suffered complications as a result of stomach ulcers and intestinal problems, underwent surgery on February 22nd at Shahid Madani Hospital in Karaj. According to our sources, the surgery was successful and the pastor is doing well. (For more information on Behnam, visit our website.)
On March 2nd, a Christian man by the name of Sevada Aghasar, who spent over six months behind bars, was released from Evin Prison. Sevada was arrested in August of 2013. Although he wasn't officially charged, evidence suggests that his arrest was related to his online contact with a number of Farsi-speaking Christians. Also released was Masoud Mirzaei, a Christian convert who had been arrested at the same time.
Finally, an American pastor, Saeed Abedini, was recently transferred from a prison in Tehran to one in Karaj. Most of the prisoners at the Karaj jail are reportedly incarcerated for murder or other serious criminal offences. Pastor Saeed, who is in poor health, is presently serving an eight-year term for his ministry work in Iran among the underground house church movement. (To learn more about Pastor Saeed's case, click here.)
With thanksgiving to God, let us praise Him for providing a way for Pastor Behnam to undergo much-needed surgery. As this pastor now recovers, pray that his health will continue to improve. Pray, too, that his release will soon follow. Similarly, let us thank God for the release of Sevada and Masoud. May they go forward from here with an even greater resolve to share the "Good News" of Jesus. Also remember Pastor Saeed in your prayers...that the Lord will hide and shield him in the shadow of His wings (Psalm 17:8).