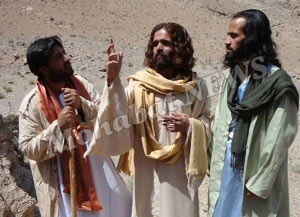 Mr. Ghaedi played the role of Jesus in the
Iranian version of the "Jesus" film.
Photo: Mohabat News
Three converts to Christianity were recently arrested by authorities in Isfahan and immediately transferred to prison. Shahram Ghaedi, Heshmat Shafiei and Emad Haghi were seized on September 27th, while security officials also raided the home of Shahram and confiscated his books and computer.
Shahram, 32, previously faced arrest in February of 2012. In that incident, he was sentenced to three months in prison for evangelism. At present, the young Christian man was in the process of creating a film about Jesus. However, the project was disrupted after authorities arrested several of the cast members. Some of the members were even forced to leave the country due to ongoing pressure. According to sources, it is very likely that the recent arrest of these three men is related to their involvement in the production of this film.
Knowing that our Lord is fully aware of the challenges these imprisoned men are facing, let us pray that He will grant them necessary peace and strength. May they soon be released and permitted to return to their concerned loved ones. Until then, may God use these men to serve as effective witnesses of His redemptive love in the lives of their fellow prisoners and authorities. Also ask that the film these men were producing will no longer be hindered, but rather completed and used powerfully to spread the Gospel throughout Iran.