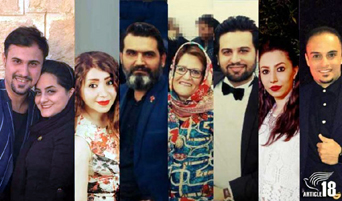 Eight converts to Christianity, including five members of one family, were arrested in the southwestern city of Bushehr on July 1st. The officers, identified as agents from the Ministry of Intelligence (MOIS), stormed their homes. Bibles were confiscated, along with literature, any religious symbols, laptops, phones and other personal belongings.
Those arrested were Sam Khosravi, 36, and his wife Maryam Falahi, 35; Sam's brother Sasan, 35, and his wife Marjan Falahi, 33; Sam and Sasan's mother, Khatoon Fatolahzadeh, 61; Pooriya Peyma, 27, and his wife Fatemeh Talebi, 27; and Habib Heydari, 38. According to reports, the officers treated the Christians harshly, even though children were present at the time.
Khatoon was released the same day due to her age; however, according to last reports, the others remain detained with no access to lawyers. They are being held in solitary confinement in the local MOIS office. This is only one of numerous arrests in recent months, many of them unreported for security reasons. For more details on the lives of Christians in Iran, go to our country report.
Please uphold each of these believers as they work through the legal difficulties. May they find the strength to continue trusting in God's sovereignty in their time of need. Pray that the authorities will allow these men and women to return to their families, and that the ongoing international turmoil will not pose more challenges for Christians in Iran.