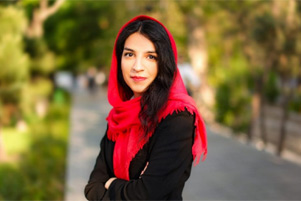 Fatemeh (Mary) Mohammadi is a Christian convert and blogger who has spoken out about the oppression facing Iran's people. As a result, she has been arrested and imprisoned because of her faith and work as a social media advocate (read more).
A hearing was held on April 14th, at which time a judge raised questions about her faith, even though it had no bearing on the charges she faced. On April 21st, she was notified of the outcome: one day in prison, a three-month suspension of her prison sentence, plus ten lashes for "disturbing public order."
Mary, who has since her arrest encountered abusive treatment while in prison, is opting not to appeal the verdict. She explains the reason for this by stating, "We have refrained from appealing against the verdict because the appeal courts have turned into 'confirmation' courts!"
Ask God for His swift intervention on Mary's behalf by providing her needed protection and bringing conviction to the judicial authorities for oppressing those who take a stand by justly advocating on behalf of others. Intercede for the many Iranians who are dissatisfied with their oppressive government, and yet are at risk of heavy-handed judgement themselves if their concerns are raised. In the midst of this oppressive spiritual climate, may the growth of Christianity continue to flourish as Christian programs are being broadcast into Iran via the Internet and satellite television.