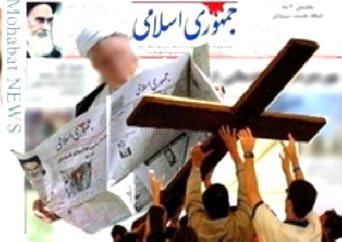 The battle between the cross and the press in Iran
Photo: Mohabat News

The Iranian media is desperate to refute claims that Christianity is spreading among Iranian youth and through cities considered to be almost exclusively Islamic. The government-supported Jomhouri-e-Eslami daily newspaper is calling the spread of Christianity an unfounded rumour, but there are definite contradictions in fact to this statement. On October 2, the government-supported news website, Javan-Online, acknowledged that the acceptance of Christianity was becoming a trend and reported 200 house churches were discovered in just a few months in the traditionally Islamic city of Mashhad.
Many high ranking government officials and Islamic religious leaders have also made statements expressing concern over the spread of Christianity. Ayatollah Jafar Sobhani, a prominent Islamic theologian and writer, publicly spoke about the conversion of 600 people to Christianity in the city of Neishabour, according to a local newspaper in the Southern Khoarasan Province. The Head of the Ministry of Intelligence in Iran, Heydar Moslehi, also warned the heads of education in Iran about the spread of Christianity in schools.
Moslehi also cryptically announced there will be a new effort to fight the growth of house churches in Iran, and there are serious concerns that this Christmas season could bring intense persecution for Christians. Last Christmas season, authorities from the Ministry of Intelligence raided house churches and the homes of believers in Iran arresting hundreds of Christians (for more information, click here).
Please pray that this Christmas season believers throughout Iran will be protected. Pray that God will grant them safety as they celebrate the arrival of our Saviour. Pray that God will bless and strengthen the faith of new converts to Christianity.
For more on the trials believers face in Iran, go to the Iran Country Report.