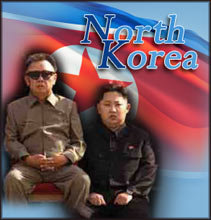 The recent naming of Kim Jong Un, the youngest son of North Korean dictator Kim Jong Il, as Vice Chairman of the Worker's Party Central Military Commission has led the nation into a political transition which many view as a turning point for the country's Christian population. On October 10, during what is said to be the largest military parade staged by North Korea, the nation was officially introduced to Kim Jong Un, who is expected to succeed his ailing father as the country's leader. Little is known about Kim Jong Un. Some are hopeful that his appointment to leadership will lead to an improvement in the ruthless treatment of Christians in the nation, where believers are regularly imprisoned, tortured and even killed for following Christ.
Ask God to protect and encourage North Korean Christians during these political changes. Pray that believers will be fortified by His love and sustained by His power as they look ahead to the future. Pray that God will reveal Himself to Kim Jong Il and graciously transform his heart and the hearts of his subordinates so that they will embrace Christ.
Learn more about the plight of North Korean Christians by visiting the country profile at the North Korea Country Report.