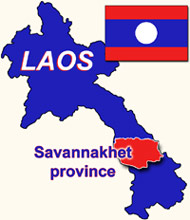 On September 3, Laotian authorities arrested a church leader in Liansai village in Savannakhet province for embracing Christianity, according to reports from Human Rights Watch for Lao Religious Freedom. Authorities arrested Thao Oun, an elder at Boukham Church who came to Christ 10 months ago, in his home and forced him at gunpoint to the Saybounthong sub‐district office. Oun was charged with bringing destruction to the Lao nation and government by embracing Christianity, which the officials consider a "foreign religion to be abhorred." He was interrogated for three hours, during which authorities pressured him to sign a document renouncing his Christian faith. When he refused, he was expelled from the village. At last report Oun had sought refuge in a nearby village. On September 6, local officials surrounded the Boukham Church worship site in Saisomboon village and blocked church members from entering for Sunday morning worship.
Pray for strength and protection for Thao Oun amidst his trials of faith. Pray that he and the other members of the Boukham Church will continue to be attentive to God's will and faithful in His service.
For more information on the situation facing Christians in Laos, click here.