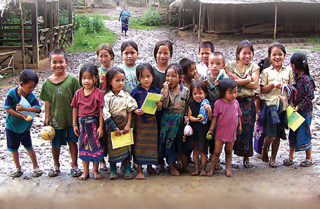 Children in a village in Laos
Eleven orphans in northern Laos are currently facing pressure from the principal of their orphanage to stop attending church. If they do not obey, the children may have to leave the orphanage.
After attending a local church and becoming a Christian, one of the orphans shared the gospel with his peers. Soon, 10 other orphans turned to Christ and began regularly attending church. When the principal heard of the conversions, he told the children multiple times to stop attending church. After pressuring the children with no results, the principal called the group to his office on August 19. He told them they must stop attending church or face the consequences. Seven of the orphans promised they would stop attending church, but none of them have renounced their faith. The remaining four orphans continue to attend church and refuse to bend under the pressure.
Please pray that God will protect these orphans, who depend entirely on government support. Pray that their example of steadfast faith will soften the hearts of those around them. Pray that these orphans will be upheld in prayer by the Christian community in Laos and around the world.
To learn more about the trials Christians face in Laos, please visit the Laos Country Report.