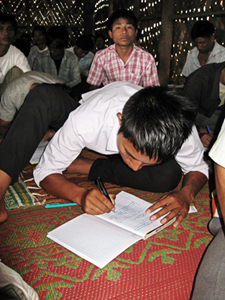 Pray for young people in Laos who face
persecution because of their faith in Jesus.
An 18-year-old son and 20-year-old daughter have been expelled from their home because of their Christian faith. When their mother became extremely ill, village elders claimed that the spirits were displeased because the two Christian children were living in the house. An older son tried to persuade his brother and sister to recant their faith, but they refused. Their mother then accused them of hating their older brother and wishing him dead. She threw their belongings out of the house and told them to leave. The two siblings immediately moved to a Christian village where they originally heard the gospel, where they were welcomed with open arms.
Pray for these two brave Christians as they begin a new life away from their family. Pray that they will rest in the knowledge that the Good Shepherd walks with them through this difficult time (Psalm 23). Pray that their family members will come to know Jesus Christ and that the family will reconcile.
To learn more about the persecuted Church in Laos, please visit the Laos Country Report.