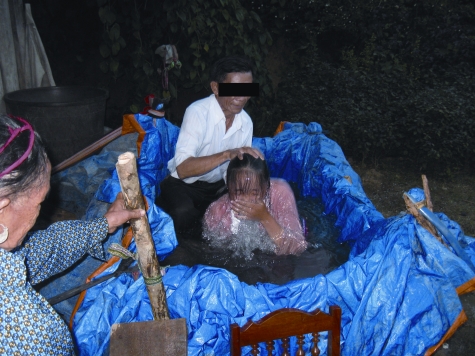 A "homemade" baptism - In spite of persecution, our brothers
and sisters in Laos continue to demonstrate an overcoming faith.
Lao officials arrested two Lao and two Thai Christians in Luang Namtha Province in June, seizing them from a private residence in Long district. A resident of the village witnessed the Thai Christians, brothers Jonasa and Phanthakorn Wiwatdamrong, explaining Bible passages to enquirers in a private home. He then reported their presence to police. Police raided the home, confiscating the brothers' passports along with biblical literature and Christian CDs. They have reportedly been charged with "spreading the Christian faith without official approval." Jonasa and Phanthakorn, along with two local residents, one identified by the single name Chalar and the other as yet unidentified, were taken directly to Luang Namtha provincial prison.
Elsewhere, the military commander of Phin district, Savannakhet Province, discharged two members of the Alowmai village security force, identified by the single names Khamsorn and Tonglai, for converting to Christianity.
Thank the Lord for the faithfulness of these believers. Ask Him to give them the faith to stand firm during this trial. Pray they will take comfort in the fact that God commends those who suffer for doing good (1 Peter 2:20-21). Pray they will be witnesses of the gospel to their persecutors.
For more information about persecution in Laos, go to the Laos Country Report.