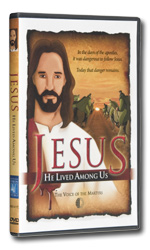 The pastors were detained for
reproducing a Christian DVD
similar to this one.
Three Christian pastors in southern Laos have been arrested and subsequently detained for allegedly spreading Christianity by reproducing a DVD of a Christian film about "End Times." On February 5, 2013, Pastor Bounma of Alowmai Village Church, Pastor Somkaew of Kengsainoi Village Church and Pastor Bounmee of Savet Village Church (located in Sepon district), were all arrested by the Phin district police in Savannakhet province.
The accused pastors had taken a DVD copy of the film to a shop at the Phin market in order to make three copies. After the copies were made, the owner of the shop, along with the three pastors, tested one of the DVDs by viewing the film. While this was taking place, a police officer came into the shop and noticed the shop owner and the pastors watching the film. The officer then contacted his superior, Lieutenant Khamvee, who arrived at the location accompanied by two deputies. The police arrested the three pastors and took the shop owner to the police station for further questioning. While the shop owner was later released without charge, the pastors were imprisoned. For further information on this country, go to the Laos Country Report.
Please pray that these pastors will rely on the Lord to give them the right words to say when they stand before the accusing authorities (Matthew 10:19). As a result of His mighty intervention, may they soon be released from prison. Ask the Lord to also strengthen and minister to these church leaders and their families, as well as their congregants, throughout the entire legal process. May genuine religious freedom and spiritual revival take place in this Communist nation.