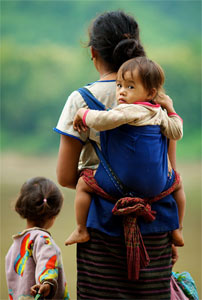 Pray for the protection of villagers in Laos.
Photo: Flickr / jmbaud74
A group of new Christians in a Laotian village have been blamed for the unrelated deaths of three men. When the deaths occurred shortly after the conversion of the believers, the rest of the community concluded that they had angered their ancestors.
In March 2013, two evangelists shared the Gospel in three remote villages of Laos. As a result, 178 people received Christ and 18 were baptized. Shortly afterward, three men from one of the villages died from unrelated causes. One was given the wrong medicine, one died in his sleep, and the third was accidentally electrocuted while trying to run a cable line.
The shaken community consulted a witch doctor who concluded that the strange new religion that was introduced to the community had angered their ancestors. "Those Christians have to renounce their faith or they have to leave the village!" he warned. "Otherwise, more people will die."
The community leader became angry with the new Christians and called a meeting for the whole village; army and police officials were present. At the meeting, the village authorities ordered the believers to renounce their faith. They also forced the Christians to cover the travel expenses of the army and police officials, and to pay for the funeral costs of all three people who had died. Previously posted alerts of persecution in Laos are available at the Laos Country Report.
Praise God for the great spiritual harvest that has taken place in Laos this year due to the evangelists' ministry among the villagers. Pray for His protection to be upon these new believers so that the enemy of their souls will not be able to jeopardize or thwart the wonderful work that He has begun in each of their lives. Ask the Lord to encourage and strengthen them spiritually so they will be able to stand firmly in their faith despite opposition, knowing that He has also promised to be their Defender and Vindicator (Isaiah 54:17).