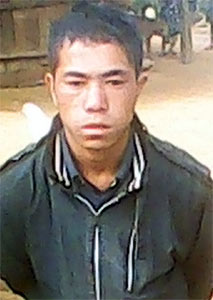 Qhua Xiong
In the midst of opposition from family members and authorities, believers throughout Laos are remaining resolute in their faith.
Three Christians from a remote Hmong village were arrested in October of 2013 and taken to the district governor, who told them to recant their faith in Jesus Christ. But the believers refused to comply, telling the governor that they would not leave their faith because their lives have been changed by God. After their arrest, a VOM contact explained that Christians are, by law, allowed to practise their faith. Another contact was then sent to discuss the matter with the district governor, and the three Christians were released without further problems.
Qhua Xiong, a 20-year-old new believer, faced immediate persecution from his relatives when they learned of his conversion. The young Hmong man had dedicated his life to Christ while attending a Christmas service in Hua Sell in December of 2013. Upon returning to his home village, he was beaten by family members and tied up for a day and a half. They later forced him to leave the village.
In another remote village, Pastor "Tai Loc" and other Christians of his community have refused to renounce their faith despite pressure from local authorities. After learning their village had been awarded the "best role model village" in their district, the officials became concerned that they might be disqualified because Christians lived there. Pastor Loc explained to them that the Christians in the village are role models because of their hard work and example to others. When the pastor refused to renounce his faith, the opposing officials tried to persuade him to sign papers indicating that he would stop evangelizing in the village. Seeing that the Christians remained steadfast in their beliefs, the authorities eventually stopped pressuring them.
As the believers of this nation face opposition from family members and authorities alike, pray that they will cling to their faith in God and place their trust in Him who promises to uphold them (Psalm 63:8). Pray that those facing rejection from their families will experience true and lasting relationships with their spiritual brothers and sisters. May the Lord also work mightily in the lives of the leaders and authorities who are opposing the Christian faith, that they would see the error of their ways and come to believe in the saving message of Christ who was crucified on behalf of their sins as well.
To learn more about our persecuted brothers and sisters in Christ in Laos, go to the Laos Country Report.