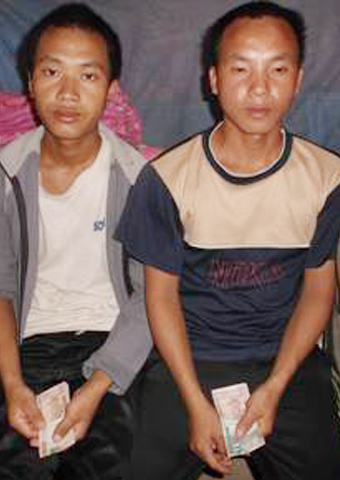 "Tou Ly" and "Fai Cho"
Two Hmong Christian men, "Tou Ly" and "Fai Cho," were recently forced by relatives to leave their homes after refusing to renounce Christ and return to the community's tradition of ancestor worship. The two believers were then arrested by local authorities and detained for two weeks. After their release, on August 25th, the men rented a place to live outside of the village community.
Their struggles were only compounded when Fai Cho's father died on September 27th. Local authorities issued the family a large fine, claiming they had not obtained the proper burial permit. Thankfully, the two men are receiving help from their church toward the cost of the fine; however, they have little to no food or clothing, and remain in desperate need.
Praising God for the steadfast faith of these two dedicated believers, let us also intercede on their behalf, asking God to grant them daily strength during this trial. May they not give in to the pressures coming against them to renounce their faith, but instead be filled with the Holy Spirit and, therefore, fully equipped to follow Christ despite the hostility. Ask God to use the vibrant witness of these men to effectively draw many others, especially their persecutors, to saving faith in His Son Jesus. Finally, pray that He will bless the efforts of their church, also providing a way to meet the persecuted believers' physical and spiritual needs as they continue to stand for righteousness' sake.
To learn more about the struggles believers face in Laos, go to the Laos Country Report.