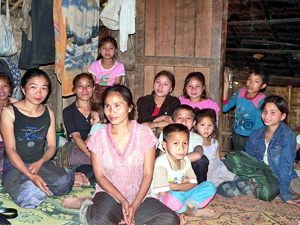 Christians in Laos are a small minority.
Photo: Barnabas Fund
Two Christians in central Laos have been detained on charges of "spreading the faith." Bountheung, 43, and Neuy, 40, both of whom are married and have children, were arrested on September 2nd during a lunch visit at the home of a family in Nong-Hang village. Five police agents raided the home, apparently after receiving a tip-off from local officials. These men are now imprisoned in Khounkham, a village located within Khammouane province.
Local sources say that police in Khounkham have been monitoring Christian activities closely for several years due to concerns over church growth. Although studies indicate that Christians make up a mere two percent of this communist country's overall population, Bountheung and Neuy are reported to have brought hundreds of people to Christ through their witness. To learn more about the challenges believers face in Laos,
review this page
.
While we can praise God for the powerful witness of Bountheung and Neuy, and the way He has worked through them to bring many Lao people to Christ, please join us in praying for their immediate release. May any local officials who oppose Christians in this area of central Laos be touched by the Holy Spirit and dramatically transformed, as was the case for Saul in the account of Acts 9.