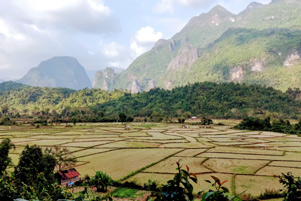 Early this year, Sithong Theppavong started a small church in Savannakhet Province by meeting for worship in a farming area. However, he has since encountered opposition and received warnings several times to cease his ministry. Each time he has refused.
On March 15th, authorities approached him, mandating he sign an agreement to desist. When he refused, Sithong was arrested. At last report, he remains in detention and is not allowed any visitation. No further information about Sithong's case, nor any news of his well-being, has been released. There are concerns that he could become a victim of "enforced disappearance." For more about persecution in Laos, visit our country report.
Please pray for God's divine protection over Sithong, and other Christians in Laos who are at risk of punishment or other forms of persecution for their endeavours to provided needed ministry in various communities. Ask the Lord to also bring comfort and encouragement to Sithong's family and friends, as they anxiously await news of their loved one. May information be made available to them about his whereabouts, and eventual contact with Sithong be made, while praying for His hopeful release from custody.