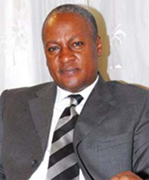 Vice President
John Dramani Mahama

Daniel Baidoo, a Ghanaian Christian who was convicted of attempting to convert Libyans to Christianity and sentenced to 25 years in prison in 2001, was released from Libya's Jedidah Prison on April 29. Baidoo was arrested at a post office where he had gone to collect a parcel of Arabic Christian literature mailed to him from a ministry in the United States. Evangelizing to Muslims is prohibited in Libya and the government monitors religious literature coming into the country. Baidoo's release was secured by Ghana's Vice President, John Dramani Mahama, who was in Libya on an official visit. Baidoo departed for Ghana on April 30.
Thank God for Baidoo's release. Pray that the Libyan government will respect religious freedom. Ask God to give wisdom and guidance to Baidoo as he serves Him.
Learn more about the persecution Christians face in Libya.