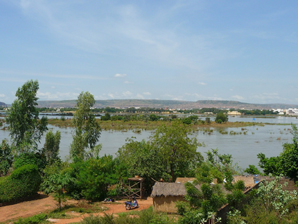 In late September and early October, at least three churches in the Mopti region have received "visits" from jihadists. In Dobara, the militants smashed their way into a church from which they removed crosses and furnishings that were later piled up outside and burned. In Bodwal, members of the same extremist group drove worshipping believers out of their church, warning them that if they ever returned to ring the bells or pray, they would be killed.
Most of the attacks have been claimed by the Group for the Support of Islam and Muslims, a coalition of the region's most powerful Al-Qaeda affiliates. This same group released a video on July 1st titled, The Correct Equation, which puts forth the Islamic doctrine of retaliation (essentially "an eye for an eye"). The extremist group also used the video to provide proof that they were holding six Western hostages -- most of whom are Christians accused by group members of working to convert Muslims to Christianity.
Ask God to protect and preserve His precious church in Mali, specifically providing security to believers who are extremely vulnerable to militant terror in the Mopti region. Additionally, pray that He will sustain, comfort and deliver the six Western hostages. In the midst of this looming spiritual battle in Mali, may the Lord Himself personally engage in the fight against evil through a great outpouring of His Spirit (Joel 2:28-32), in preparation of His imminent return.