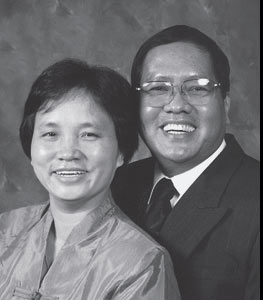 Rev. Dam Suan Mung with his wife, Vung Za Niang
A rapidly growing church in Rangoon, the capital of Myanmar (Burma) has been closed by military officials, according to a news report on September 9 from "The Irrawaddy" news agency. The Full Gospel Assembly has been very active in the city, but is now unable to carry on any activities, according to a pastor from the church.
According to Christian sources in Myanmar, authorities have been cracking down on several Christian churches in recent months because of the large numbers of Buddhists who have converted to Christianity.
Pray for Pastor Dam Suan Mung and the leaders of the church, as they look for the best way to minister to the church members in the coming days. Pray for a continued outreach so that many will come to faith in Christ.
For more information on Myanmar and the persecution facing Christian there, click here.