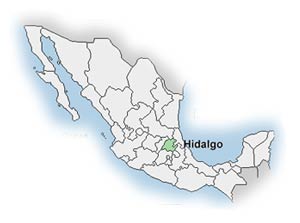 Ever since 1997 when the Fountain of Heaven Church was started in Cuateceometl, Hidalgo, Mexico, members of the church have spent short periods in jail because local authorities who are opposed to the presence of any non-Catholic church. According to Compass Direct, the pressure against the Fountain of Heaven Church recently increased as the town council decided to rid the area of all non-Catholics. Pastor Francisco Sanchez Gonzalez reports that the council imposed a fine of 1000 pesos (approximately $115 CDN) on every member of the church and informed them that they must renounce their evangelical faith. If they do not comply by the end of May, their homes and church building will be destroyed. On May 15, police arrived at the church and arrested Pastor Gonzalez and another church member, Raul Bautista. Pastor Gonzalez was released that evening but Bautista was not released until the 1000 peso fine was paid for by a relative.
Government authorities have said they will intervene before May 31. Pray that this intervention will happen and that these believers will be free to worship in peace. Pray for the continued outreach of this church in Cuateceometl, the only non-Catholic congregation in the region.
For more information on the persecution facing Christians in areas of Mexico, click here.