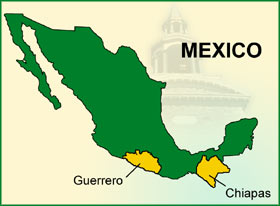 On February 18, residents of the town of Tenango Tepexi, Guerrero state expelled 20 local evangelical Christians from their homes according to a February 22 report from Compass Direct.
Three couples and 14 children were expelled for failing to pay fees for the cost of local festivals which include ceremonies that are a blend of traditional native religions and Catholicism. The 20 were temporarily held in town offices and then loaded onto trucks and dumped at the edge of town. Town leaders supportive of the "traditionalist Catholics" told the believers that they would be burned to death if they tried to return.
That same day, authorities in Santa Rita, Chiapas state cut off the water and electricity supply of eight local evangelical Christian families who refused to help pay for religious festivals or fund the repairs of a Catholic church building.
Ask God to protect and embolden evangelical Christians in Guerrero and Chiapas in the midst of ongoing persecution. Pray that their passion for Christ will be the light that draws many to repentance (Matthew 5:14-16).
For more information on the persecution of Christians in Mexico, go to the Mexico Country Report.