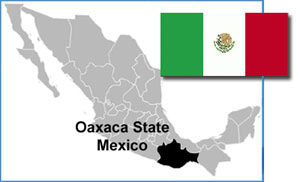 Four evangelical Christians were unjustly imprisoned and beaten by order of local authorities in Mexico's south-western state of Oaxaca. On November 4th, the municipal president publicly called citizens to "demolish the temple; (and to) lynch, imprison and torture" members of the Pentecostal church in San Juan Ozolotepec. This provoked the abduction and incarceration of Rev. Leopoldo Alonso and three church members the following day.
Human rights officials say a mob of traditionalists, armed with pickaxes and sledgehammers, attacked the church building and severely beat four church members with rods and stones. With the backing of police, state officials intervened and the four Christian men were released and hospitalized for their injuries on November 8th.
The town has been a cauldron of religious discrimination for some time. Church members reported that in May, municipal president, Pedro Cruz González, threatened to burn them and throw their bodies into a canyon if they did not renounce their faith. The municipal leader also responded to the Protestants' public appeal for state intervention by incarcerating a church member in July. The main issue at stake is the church's refusal to join and fund local traditionalist festivals.
The National Commission for Human Rights has filed a complaint about the case in San Juan Ozolotepec. The commission reports that cases of religious intolerance are on the rise in Mexico, particularly in rural areas and regions with a significant indigenous population. While religious freedoms are constitutionally enshrined in Mexico, state and federal reluctance to intervene has allowed intolerance to spread. To learn more about the challenges facing evangelical Christians in Mexico, go to the Mexico Country Report.
We offer thanks to God for the release and medical care of Rev. Alonso and his three church members -- Manuel Martínez Silva, Miguel Silva Reyes and Plácido Aragón. Please pray for their physical healing, and that courage and strength be granted to all who are being persecuted in this embattled town. May the municipal president, Pedro Cruz González, be confronted about his sin against God's people, reminding him and all other governing authorities of the importance of serving with justice and truth. Lift up the country of Mexico in prayer, asking that the Light of the Gospel will shine brightly...even in areas of darkness where there is discrimination, hatred and social turmoil.