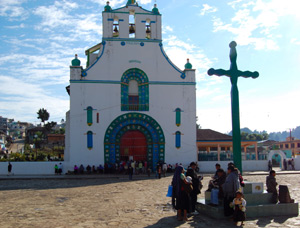 Pray that the truth of God's Word
will be proclaimed in Mexico.
A community of believers in Hidalgo State, Mexico, has reportedly been threatened with death for their attempt to inform government agents about persecution towards Christians. The threats were issued in April by "Community Delegate" Jesus Dominguez Hernandez. When the group of Christians from Chichiltepec village presented their concerns, the delegate was noticeably "infuriated" during their meeting and "threatened to kill all of the Christians present," report sources from the Mexican human rights organization, Impulso 18.
Christians of Chichiltepec village testify that they have suffered for resisting the pressure placed on them by Mr. Hernandez to leave their faith. Among the victims are cousins Casto Hernandez and Juan Placido who were jailed for nearly 30 hours for their refusal, and later ordered to vacate their homes. Casto explains that "because of the delegate's intolerance, he would not allow us to preach the Word of God." The incarcerated believer further states, "He tried to force me to renounce my faith in writing, but I would not do it."
An International Christian Concern (ICC) advocate insists that the Mexican government needs to "provide justice and protection for victims of religious persecution" while ensuring they are properly "dealing with local and/or state officials that are part of the problem." ICC claims there are at least 70 open cases of religious persecution going on against minority Christian communities in Chiapas, Hidalgo, Oaxaca, Puebla and Guerreroalone. VOMC's Greg Musselman recently produced a video report in which he interviewed Christians in Chiapas who were expelled from their homes merely for following Jesus.
Please uphold our Mexican brothers and sisters-in-Christ as they bravely stand up for their faith, despite the threats and challenges perpetrated against them. May they receive God's strength, comfort and grace in the midst of the spiritual battle. Pray that He will also minister to the afflicters, compelling them to abandon their wickedness and instead surrender their lives over to Him. In addition, ask the Lord to guide the governing authorities, helping them to be sensitive to the struggles faced by Mexico's wrongly treated Christians and mindful of their need for protection and justice.