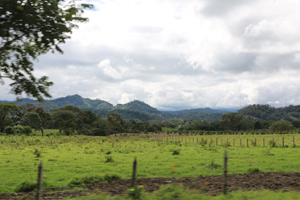 Communal farmland in Mexico
On August 1st, Álvaro López had his personal farmland vandalized and farming tools stolen by a "traditionalist" living in the same area. (The term "traditionalist" is used by those who have erroneously combined their ancestors' pagan Mayan rituals with the ordinances of Catholicism.) While the police did intervene, their relatively minor scolding of the perpetrators had done very little to comfort Álvaro and his fellow evangelical Christians who are all living in a constant state of uncertainty regarding their personal safety.
This incident follows an ongoing conflict that other evangelical families in southern Mexico began facing within their own communities. The opposition has included personal intimidation, attacks on homes, imprisonment, forceful expulsion, and even physical injury or death to some members of the families. (Previous reports on incidents of persecution in this country -- including video reports -- can be viewed at the Mexico Country Report.)
While the state of Chiapas officially guarantees the protection of vulnerable groups such as evangelical Christians, governing authorities have not been effective in the enforcement of applicable laws. In a recent commission to raise awareness of religious persecution, the state's Secretary General Juan Carlos Gómez Aranda encouraged minority groups that are suffering discrimination with the promise of necessary action. Yet the recent attack on Álvaro and the continued harassment of other evangelicals within the state prove that no substantial progress has been made.
Under the guise of protecting their syncretistic rituals and customs, traditionalists have purposely cut off supplies of water and electricity from reaching various evangelical Christian communities in Chiapas and also prevented many families from cultivating crops in their own farmlands. As the state government has ignored or blatantly supported such hostilities, these fellow believers in Christ have begun urgently calling on the country's federal government to mediate on their behalf and, thereby, uphold agreed upon protection.
Ask the Lord to strengthen the suffering Christians of Mexico so they can endure these hard struggles, exposure to reproach and affliction, and the plundering of their property (Hebrews 10:32-34; Psalm 145:18-19). Pray that these suffering believers will be reminded of the fact that they have a far more worthy possession; one that's promised to last forever in a place where thieves will never break in and steal (Matthew 6:20). May their attackers also experience the reality of God's life-changing presence, the richness of His enabling grace, and the power of His resurrection glory to help them overcome the challenges of this world.