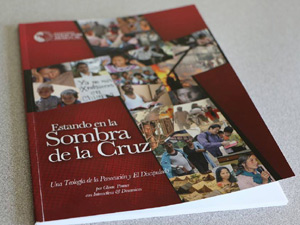 VOM Canada is pleased to be partnering with The Voice of the Martyrs Mexico in the printing and distribution of new Spanish Christian training materials. In fact, this month began the nationwide distribution of a very special book, Estando en la Sombra de la Cruz. (A total of 10,000 copies have recently been printed of the first edition.) It's designed to be used as the basis of in-country training sessions that will be presented throughout Mexico.
This simple yet condensed training manual has been based on the internationally recognized writings of VOM Canada's former CEO, the late Glenn Penner, whose foundational "theology of persecution" message was initially published in the book, In the Shadow of the Cross. The new Spanish edition of the manual includes several inspiring testimonies representing Christian persecution in the Mexican state of Chiapas, practical encouragement for those experiencing tremendous challenges because of their faith, and a call for the Mexican church to remember the persecuted brothers and sisters of their country and around the world. (More about persecution in Mexico can be reviewed here.)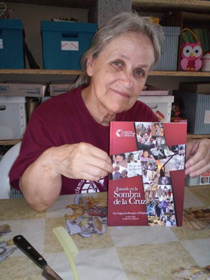 In reference to the launch of the new Spanish edition, VOM Canada's VP of International Ministry and Operations, Anthony Rhodes, states: "We are privileged to be working with faithful partners like The Voice of the Martyrs Mexico in the advance of the Gospel. It is our hope and prayer that this manual will encourage and equip the Mexican church to a strong, passionate and active faith."
Thank the Lord for overseeing and blessing the work of translating, editing and printing the new Spanish training manual, "Estando en la Sombra de la Cruz." Ask Him to now grant great wisdom to the various ministry teams that will be travelling throughout Mexico to teach this highly effective ministry material. May the Lord keep them safe as they journey across the country, powerfully presenting His Word for today's church so that others will be fully trained and equipped to fulfill the call of God on their lives (Hebrews 13:14).
If you're interested in learning more about the study book, In the Shadow of the Cross, which is printed in English, please visit our online store.