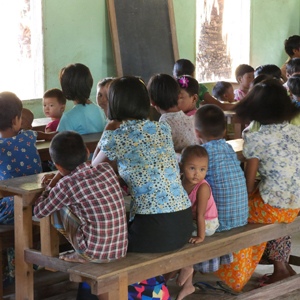 A village school in Burma (Myanmar)
Two young women were tragically attacked and killed on January 19th because of their Christian work in a Buddhist village. The women, who were serving as volunteer schoolteachers in a village located within Kachin State, had earlier been threatened because of their efforts in sharing the Good News. Local officials had told them to leave the area because they did not want Christians in the village. Shortly thereafter, the young women were reportedly raped and killed by soldiers.
Despite recent reforms in this predominantly-Buddhist nation, Christians are actually facing increased persecution. New believers routinely lose their employment and homes, and many women across the country are at risk of being raped and murdered by members of the military.
Pray that God will somehow use this senseless attack to further His Kingdom purposes in Burma so that many will be receptive to the Gospel message. Ask that the faithful testimony and witness of these dedicated women will continue to impact the members of this village community, even long after their deaths. Pray that their loved ones, as well as the students they sacrificially taught, will be comforted in the knowledge that these young women are now experiencing life to the fullest with Jesus in heaven. Please also intercede for the soldiers who perpetrated this heartless crime, that they will be moved by the Holy Spirit to seek repentance and salvation.
To learn how VOM is standing with our persecuted family in Burma, visit our website.