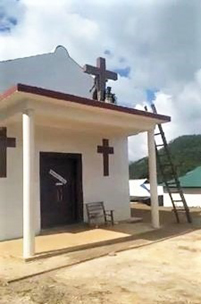 The Chinese-backed "United Wa State Army" (UWSA) rebels have been destroying churches and detaining pastors for interrogation in the Wa area of Burma's Shan State in response to new directives. The ethnic rebel group has declared autonomy for the region of Wa, which borders China where the Wa people originated before migrating into Burma.
In early September, the UWSA issued a Chinese-language statement instructing all members of the rebel army to "find out what the missionaries are doing and what are their intentions." The statement also bans any construction of new churches and orders the destruction of any facility built after 1989 without explicit government permission. It further forbids any foreign church workers and prohibits any religious teaching in schools.
The order included the Chinese term jidujiao, which is usually used in reference to Protestant and evangelical Christians; not tianzhujiao, which is used to denote Roman Catholics. The use of such terminology suggests that the order may intend to target specific Christian groups. Following up on the decree, several church buildings have been destroyed; most of them Baptist churches. It is estimated that 30 percent of the Wa people are Christians.
Hardly coincidental, this announcement follows increased international pressure to release Chinese American pastor John Cao, who has been sentenced to seven years imprisonment in China for crossing the Burma/China border in his efforts to help the impoverished Wa people (see this report for more details).
Pressure from China is also a factor in the neighbouring state of Kachin, where rebels also fighting for independence are blocking aid support to the predominantly Christian area.
Remember the persecuted Christians of the Shan and Kachin states in your prayers. Pray for their protection, strength and encouragement in the face of fierce opposition. Intercede for their church leaders, asking God to give them wisdom when being interrogated by the UWSA officers. Ask the Lord to mightily intervene on behalf of the situation, bringing peace within the entire region. May many come to faith in Christ through the faithful testimony of God's people.