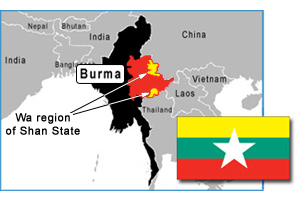 On September 27th, we reported on how Chinese-backed rebels were pressuring churches in the Wa region of Shan State (read more). Reports indicate that the rebels released 100 pastors on October 5th, but only after forcing them to sign an agreement that they would only pray in their homes and not in churches. The seven who refused to sign are still being detained, along with more than 100 others.
In another incident, militants seized more than 40 students from Bible study classes on September 25th. These students have reportedly been forced to become soldiers with the group and photos have been released showing the students in uniform.
The United Wa State Army has seized control of the Wa region, demanding independence. Ethnically and historically, the Wa people have strong connections to neighbouring China, and there are strong indications that the Chinese government has been influential in the actions of the rebels.
Pray for the pastors who were forced to sign this agreement, as well as those still in captivity. Ask God to grant needed strength for all the Wa believers caught in the midst of these great challenges. May His assuring presence give them the comfort and courage to continue reaching out with the message of Christ.