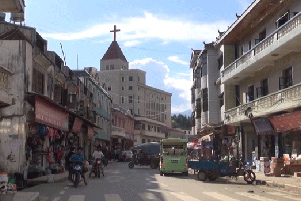 In September 2018, Wa rebels in the state of Shan began closing churches and arresting Christians (read more). In the process, the pro-Chinese rebels had closed more than 100 churches. In September 2019, the rebels began allowing some of these churches to reopen and, by mid-December, all but one of the 52 Baptist churches in the region had been allowed to resume ministry.
At this point, a Baptist Bible school remains closed, along with all Catholic churches and schools. Some of these Catholic properties have since been converted for other purposes, such as a police station.
While still legally part of Burma, Wa-controlled areas are essentially part of an independent state with a peace treaty signed between the United Wa State Army and the Burmese government in 2013. Christian leaders in the area say that Wa militants predominantly follow tribal religions and are opposed to the spread of Christianity. For more information on the difficulties experienced by Christians in Burma, go to our country report.
Praise God that many of these church facilities have been allowed to reopen. Continue to pray that the remaining ministries will be allowed to resume their services in the community, and that their rights for religious freedom will be respected. Intercede for the salvation of the residents in this area who have yet to encounter Christ's transformative love, including the leaders of the Wa militants.