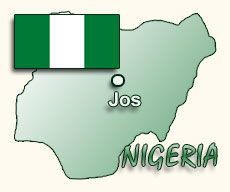 At least 24 Christians have been killed in targeted attacks around Jos, Plateau state, since January 27, as sectarian rioting continues. At least six people were killed in a raid on Dorowa village in the Barkin Ladi area, and 18 others died in neighbouring Christian villages. More than 30 homes in Dorowa were burnt down. Six villages in total in Barkin Ladi were attacked.
Meanwhile, sectarian violence continues in parts of central Nigeria. In Tafawa Balewa, Bauchi state, 35 people died in clashes on January 27, police reportedly told news agency Agence France-Presse. Arson attacks in the town destroyed five mosques and 50 houses. An unexploded bomb was found and defused in a Methodist church in Bauchi city on January 31. Last weekend, churches, mosques and homes throughout Jos were set ablaze during rioting.
Christian leaders in the region continue to call on officials to ensure that the Joint Task Force charged with peacekeeping in the region becomes more proactive in protecting vulnerable Christian communities. Christians in the city of Maiduguri in Borno state are also fearful after Islamist sect Boko Haram murdered the governorship candidate, Modu Fannami Gubio, and five others on January 28.
Pray those who suffer tremendous physical pain and trials will be strengthened and delivered by the Lord (2 Corinthians 1:8-11). Ask the Lord to equip those in authority to protect Christians from further attacks. Pray He will heal and minister to those who are hurt and grieving. Pray against the enemy's plans for any further violence.
Learn more about the persecution of believers in Nigeria at the Ethiopia Country Report.