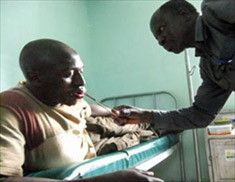 A doctor tends to one of the victims of an Islamist attack on Christians in Heipang village, Plateau state.
Photo: Compass Direct
Muslim extremists, with the alleged help of Nigerian army personnel, killed 24 Christians last month in central Nigeria's Plateau state. The attacks started on August 11 in Ratsa Foron village and continued there on August 15, leaving six Christians dead. Also on August 15 in Heipang village, Muslim extremists killed nine members of one Christian family along with another believer. "I can swear to God Almighty that the attack was carried out with the support of the soldiers; I saw them," said a tearful Nnaji John, who lost her family in the attack. On August 14, in the community of Chwelnyap in Jos, Muslim extremists killed two Christians and injured one woman. A few days later, on August 21, assaults in Kwi, Loton and Jwol villages resulted in the deaths of six more Christians. Sources added that Nigerian army soldiers participated in the assaults or at least accompanied the assailants.
Plateau Governor Jonah Jang called for immediate withdrawal of the Nigerian army because he believed Muslims in the army had taken sides with Islamist assailants. "I am convinced that the armed forces are being polluted with the religious crisis in the country," Jang said. "Before now, the military personnel used to stay in the barracks, but today the armed forces have started taking sides in this religious crisis, and if they are not called to order it will be dangerous for the country."
Please pray the Lord will have mercy on this nation, pour out His Spirit and loosen the hold the enemy has over many of its people; for our struggle is not against flesh and blood, but against the rulers, against the authorities, against the powers of this dark world and against the spiritual forces of evil in the heavenly realms (Ephesians 6:12). Pray the Lord will give wisdom and strength to those in authority. Ask Him to comfort those who have suffered as a result of ongoing violent attacks.
Go to the Nigeria Country Report for more information about persecution in Nigeria.