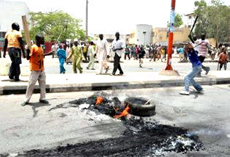 Angry youths killing innocent people in a previous
attack in Kaduna, Northern Nigeria.
Photo: Assist News
Armed Muslims from Niger entered Nigeria's Kaduna state this month to help Islamists there invade Christian communities, where they killed two Christians, including a 10-year-old boy, area sources said. In the early morning hours of August 21, the armed Muslim group entered Fadiya Bakut village in Bajju district of the Zango-Kataf Local Government Area, and attacked the home of Andrew Allahmagani, the district head in Fadiya, Allahmagani told Compass contacts by telephone. "They moved to the quarters of my brother, where they shot and killed my nephew, Fidelis Ishaku, who was 10 years old, and shot and injured my mother, who is 70." A Christian security guard at the house, 52-year-old Zaman Kaki, was killed in the attack by about 10 assailants armed with guns and other dangerous weapons, Allahmagani said. The slain boy's grandmother, Laraba Ishaku, was wounded but received treatment.
Jonathan Asake, a former member of Nigeria's National Assembly, confirmed the attack, as did Kaduna State Police Spokesman Aminu Lawal, who said one of the assailants has been arrested. "It is true that a security guard was killed, and a small boy was also killed," he said. "The target was not only the Christian community leader but also the Fadiya Bakut community."
Please pray the Lord will bring rest and peace to these two nations. Pray He will frustrate the plans of the enemy. Ask Him to comfort the grieving, praying their comfort in Christ will be more than enough for them (2 Corinthians 1:5).
Learn about Nigeria at the Nigeria Country Report.