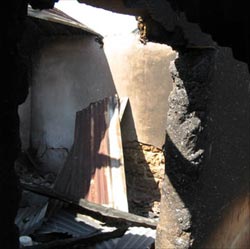 Charred interior of Christian-owned home burned
by Muslim assailants in

Barkin

Ladi

, Plateau state.
Photo: Compass Direct News
At least 45 Christians were murdered by Muslim herdsmen and soldiers in Nigeria in late November. Unfounded allegations of cattle theft preceded the attacks, according to Christian leaders in Plateau state, and thousands of vulnerable and unarmed Christians fled the area in fear, leaving churches largely empty on the Sunday following the attacks. Homes were burned, churches were closed and many Christians were also maimed or injured. Muslims were also reportedly moving onto the farms belonging to the Christians who had fled and were destroying their crops. Witnesses say
Fulani
Muslim herdsmen were shouting, "
Allahu
Akbar," which means, "God is greater."
During the same time, Muslim extremists helped members of the Islamic terrorist sect Boko Haram destroy five church buildings in Nigeria's increasingly dangerous Yobe state in late November, displacing about 700 Christians. Previously in neighbouring Bauchi state, Islamic radicals killed four Christians, including three girls. Boko Haram seeks to impose a stricter version of Sharia (Islamic law) than that already in place in northern Nigeria to expand it to the rest of the country.
Please pray that violence against Christians in Nigeria will cease and that churches will once again be filled. Pray that all who witness God's provision and protection will turn to Christ. Pray that God will bring verses of Scripture to mind that will comfort those who are grieving (Psalm 119:49-56).
To learn more about persecution in Nigeria, please visit the Nigeria Country Report.