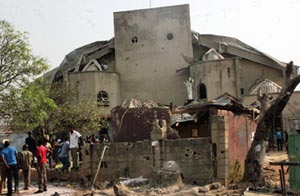 St. Theresa's Catholic Church building after a
Christmas Day bombing that claimed 45 lives.
Photo: Abayomi Fayese via Compass Direct News

On January 1, the militant Islamic group Boko Haram issued an ultimatum giving Christians living in northern Nigeria three days to leave the area amid a rising tide of violence. Boko Haram spokesman, Abul Qaqa, also said that fighters were ready to confront soldiers sent to the area under a state of emergency declared in parts of four states by Nigerian President Goodluck Jonathan.
Vowing to render Nigeria "ungovernable," Boko Haram targets anything that does not support its fundamentalist Islamist ends and jihadist means: universities, police, secular courts, Christian churches and even liberal mosques.
The state of emergency came after a string of attacks in late December, where churches, a state security building, and a mosque were bombed. By December 31, President Jonathan had closed Nigeria's borders with Chad and Niger Republic and declared the state of emergency in 15 hard-hit local government areas of Borno, Yobe, Plateau and Niger states, sending tanks and soldiers to patrol the streets.
Pray for those who were injured or who lost loved ones over Christmas. Pray the Lord will minister to them and help them overcome their present sufferings. Pray that those responsible will be brought to justice and that they will come to repentance and gain knowledge of Christ. Pray that God will frustrate the plans of the enemy (Nehemiah 4:15) so the current threat will come to nothing.
For more on persecution in Nigeria, please visit the Nigeria Country Report.