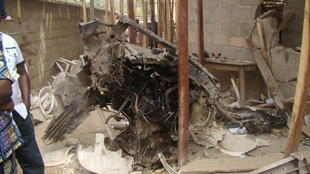 Debris of the car engine used in the attack.
Four Christians died and over 50 more were injured after a car bomb exploded at the Church of Christ in Nigeria headquarters on February 26 in Jos, Plateau state. The Sunday morning worship service had just started when two suicide bombers detonated their explosives. One of the bombers was killed, while the other was later apprehended. The Islamist terrorist group Boko Haram has claimed responsibility for the attack, which sparked violent reprisals in which two Muslims were killed.
Boko Haram, which models itself on the Taliban, aims to impose radical Islamic law in Nigeria, including a more extreme form of Shariah in the north. To achieve this, observers believe the militants are attempting to destabilize relations between Christians and Muslims. The group has been stepping up attacks against the Christian minority in the north and has ordered Christians to leave. At the same time, the militants have been targeting Jos, the dividing line between the mainly Muslim north and the predominantly Christian south.
Please pray that Christians in Nigeria will remain faithful to God, even in the midst of unrest. Pray the Lord will give those affected by the violence the desire and strength to forgive their attackers. Pray for those who are grieving. Pray the Lord will reach many in Nigeria with the truth of the gospel so they may repent and believe.
For more on the persecuted Church in Nigeria, go to the Nigeria Country Report.