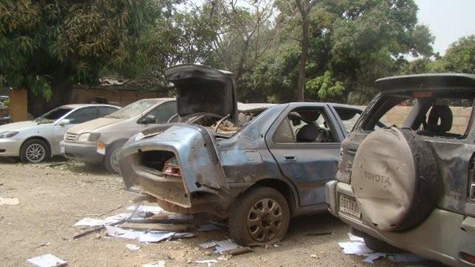 Damages from a previous attack in Nigeria
At least three people have been killed and more than 48 injured in a suicide bombing at a church in Bauchi Town, Nigeria. Among those confirmed as deceased are the bomber and a woman and child who died at the scene. Many others are hospitalized with life threatening injuries.
The bomber, a suspected member of Islamic terrorist group Boko Haram, detonated his explosives at the church gate after being refused entry.
This is the second such attack on Christians in the town within one week. The previous Sunday, four gunmen opened fire on a building, killing five at the scene and injuring four who later died in hospital.
It is believed that Boko Haram, which translates as "Western education is sin," is attacking Christians in the north to incite sectarian violence between Muslims and Christians in order to press for the separation of the Muslim-majority north from the Christian-majority south.
Please pray for those who have lost a loved one or whose loved ones are suffering from injuries. Please pray that the violence of Boko Haram will cease and that a supernatural peace that surpasses all earthly understanding will envelop Nigeria. Pray that Christians in Nigeria will not retaliate in anger but will show Christ-like love to their persecutors.
Go to the Nigeria Country Report to learn more about Nigeria's persecuted Church.